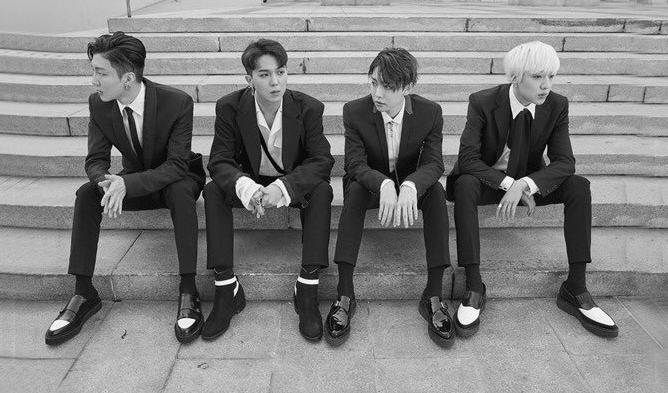 If you heard about YG Entertainment you guys probably imagine that they do all energetic music, dance packed, and heavy beats right ? but their artist WINNER didn't do that. I could say sometimes a lot of people kind of under-estimated WINNER for this reason. I knew WINNER through watching Song Minho at the rap competition Show Me the Money 4, and I thought he's the leader. Yupp because he does look like a bad boy…
WINNER debuted as 5 members, through the survival WIN (btw I didn't watch the show) so based on my understanding, I could say I feel bad for them, they're the most group that got the saddest story ever. At their first debut through the song Empty, 
and Colour Ring they got the public love, winning their first award show at 6 days. But at the time where the new idol supposedly got a lot of promotions they ended up having a 1 year break from the music industry.
To be honest I don't mind having someone singing R&B, chill hop, song because I could tell those songs will me more memorable rather than the louder ones 🙂 but I reckon the public is different.
WINNER came back in 2016 with the project EXIT : E, by releasing music videos for Baby Baby, and Sentimental as a group. Honestly speaking with you guys Baby Baby is less approachable; because the video is 19, and the K Pop fans are mostly 15-ish and someone even born in 2003, but I do love the song. WINNER is more like the type of Backstreet Boys, where they sing more rather than dancing, but you got the feel..I could say that the project that WINNER pursued is not something that the general public easily follow, because their music is just not that mainstream.
For this project you can see/heard more of Jazz, Blues, and mixture of R&B vibes rather than the hip hop itself (which the company is well known for) but in terms of the longevity, you surely want to go back and listen to the project ones again. Best thing about this group is that all ages can listen to them, because they just don't have that music that makes you easily bored with. I could say you can hear Baby Baby at a dinner restaurant, you don't want to have hyped up music during your romantic dinner right ?
Late 2016, YG Ent announced that 2NE1 broken up, and Nam Taehyun left, you know when someone is left the group..in South Korea music industry is titled disaster… but they came in strong with more tropical house music.
They have multiple things to do back in 2017, I could say the most busiest year of their life, and having more public love that's amazing for them. There are some repetitive with their music, with the tropical things going on, but its awesome. They do have one ballad/R&B song that year called Fool.
For the record Really Really was directed by the award winning director, and the frequent Kendrick Lamar's director, Dave Meyers. To be honest at some point I'm questioning what's going on with their marketing team. Firstly Love Me Love Me, and Island are both perfect during summer, but they released it in the late summer I supposed, but the good part is the longevity of the song wins. Even like in 2018, the well known rapper Takashi Sixnine was accused to plagiarized their song Island, the agency since then blocked the YouTube related to that.
In 2018 WINNER released their full length studio album ; EVERYDAY. For this album they explore more on the trap music sides. To be honest with you guys I'm not a fan of trap music (I said this on my other posts too) but I could say its a fun song. WINNER is showing more on their bright sides these days, but they do have a song like Have a Good Day, that's has similar background to EMPTY, and Colour Ring.
The thing about WINNER is that, while everyone is doing this hip hop influenced song, they always do something outside the circle, and people sometimes don't get it. Trap music is really on trend right now in the US, (but still not a fan) but I don't think its really that popular in South Korea. But for the record congratulations to WINNER for trying every single style of music to explore. EVERYDAY is their first ALL KILL charts 🙂 hence I do think that the public actually loving them. For the record I'm not a music video fan, so I don't stream that much, but the most important thing is not being viral or not, but having the longevity of the song is more important.
Let me know what do you think about WINNER guys 🙂